New ideas and designs replace the traditional forms and shapes of swimming pools. Nowadays the emphasis is on creating an integrated setting for the pool and its surrounding turning the whole into a superb relaxation area. Selection of suitable materials is a very important issue, as it must last for many years, without suffering from maintenance issues.
We would like to remind of our Sukabumi material, which has been popular over the last 10 years. It's also known under the name Bali Green stone. Our company now operates directly on site to control the quality of this type of stone. Common problems for non-checked stone are blistering and the pool becoming yellow within a few years. Strict quality control, eliminating 90% of the material, allows us to offer consistently good tiles.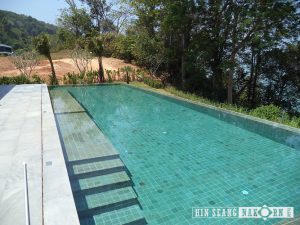 Selection of long lasting expensive materials are judged by quality appreciation over a number of years, saving costs by purchasing less suitable items turns often into an ongoing regret during the same period.
Always discuss with knowledgeable experts your requirements and budgets, so they can advise you which quality material to buy at the right price.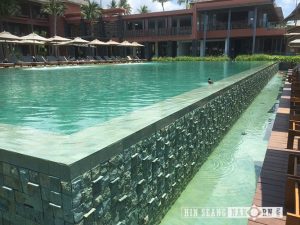 ปัจจุบันได้เกิด segments ใหม่ๆ ในการออกแบบสระว่ายน้ำ เพื่อตอบโจทย์ของผู้บริโภคหลากหลายกลุ่ม และหนึ่งองค์ประกอบสำคัญในการออกแบบสระว่ายน้ำให้ดูสวยงาม คือวัสดุปิดผิวซึ่งมีให้เลือกหลากหลายรูปแบบ
และวันนี้แอดมินขอนำเสนอวัสดุที่ได้รับความนิยมมาอย่างต่อเนื่องและยาวนานตลอดระยะ 10 กว่าปี นั่นก็คือ green sukabumi หินเขียวสุกาบูมิ หรือที่นิยมเรียกกันในชื่อหินเขียวบาหลี ซึ่งวัสดุดังกล่าวช่วยเสริมสร้างบรรยากาศบริเวณสระว่ายน้ำ ให้รู้สึกใกล้ชิดกับธรรมชาติและผ่อนคลายมากขึ้น