Natural Stone is a favorite in swimming pools, because it brings variation and beauty to your pool. Interaction between sunlight, cloud cover, water and selected stone all play a major part in the realization of the desired effect. Refraction and reflection of the light, two factors controlled by the optic physics laws determine what you see. Blue is the only remaining colour visible by naked under a few meters of water.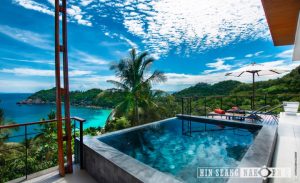 Natural stone reflecting light under water shows mainly different types of Blue hues. This is very well demonstrated by Sky Blue, where the unique selected mixture of dark and light grey tiles, result in a sparkling display under full sun light.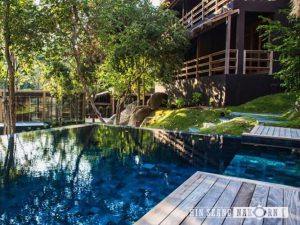 Lighter colours such as Tribeca, White Cloud, Royal White and White Dolomite provide a more Pale Blue colour. As Red hues are filtered very quickly followed by Yellow (and browns a mix of these colours), you see the colours in dry stone, but under water they magically disappear. Actually these tones, especially yellow and to a lesser extend browns do enhance the dazzling light effects your naked eye observes in the pool.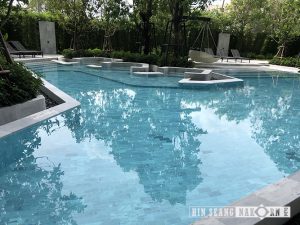 Selecting your stone for your pool, make sure to get advice from professional, who can explain to you what is the best option for you. It's not what your eye sees when the stone is dry, or just a little wet, but the reality is the result of physical optic laws on refraction of the light in combination with the depth of your pool.