Green Sukabumi is the common trade name for the bali-green natural stone swimming pool tile found in Indonesia. The stone is volcanic and contains chlorite, a mineral, which absorbs water and produces vibrant color.
Unlike other natural stone, Green Sukabumi is not quarried in the traditional sense where large blocks are cut out from the side of the mountain. Due to the nature of the stone and the mountain from which it is quarried, we are only able to produce small sized (30 to 60 cm) blocks. This means producing larger tiles is unfortunately very difficult. The standard sizes available are therefore limited to 10×10, 15×15 and 20×20 cm tiles.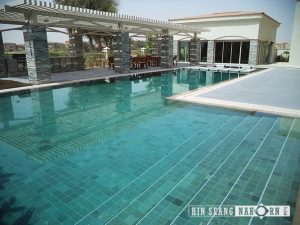 The stone formation from which the stone comes contains many iron nodules and layers. This produces large color variations from light green to dark brown. Only a few quarries can produce a stable color without brown discoloration. There are also zones within the stone formation that have excessive alteration (hot steam going through the stone) causing the blocks and tiles from that area to be very friable. Obviously material from those areas should be selected out as they are not suitable for commercial purposes. Due to the nature of the material cutting it perfectly straight is extremely difficult. HSN only supplies Premium Sukabumi Green, these tiles have been pre-selected and have been sawn straight. Please note the standard accepted within the natural stone industry are tolerance variations of ± 1-2mm.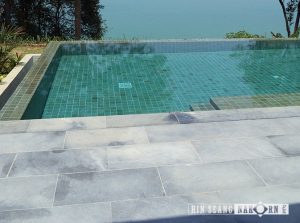 Due to these minor variations natural stone tiles should always be installed with a minor joint. Swimming Pool tiles must always be installed with a proper joint to prevent leaking behind the stone and effecting the cement holding the material in place.
A seller of Green Sukabumi swimming pool tiles should have a thorough understanding of the nature of the stone and its potential problems. This information should then be passed on to any prospective buyers
หิน Bali Green และ Green Sukabumi มีชื่อทางการค้าโดยทั่วไปว่า หินปูสระว่ายน้ำสีเขียวน้ำทะเล ซึ่งพบในประเทศอินโดนีเซีย เป็นหินภูเขาไฟที่มีซีโอไลท์และเกลือแร่เป็นส่วนประกอบซึ่งดูดซับน้ำและผลิตสีสันสดใส
หินชนิดนี้มีความแตกต่างจากหินธรรมชาติตัวอื่น ๆ เพราะไม่สามารถตัดจากบล็อคขนาดใหญ่เหมือนหินโดยทั่วไป ทั้งนี้จะต้องตัดออกจากด้านข้างของภูเขาเนื่องจากลักษณะของหินและภูเขา ซึ่งหมายความว่าการจะได้บล็อคหินที่มีขนาดใหญ่เป็นไปได้ยาก โดยทั่วไปจะได้บล็อกขนาดประมาณ 30-60 ซม. เท่านั้น และขนาดมาตรฐานที่สามารถตัดได้ คือ 10×10, 15×15 และ 20×20 ซม.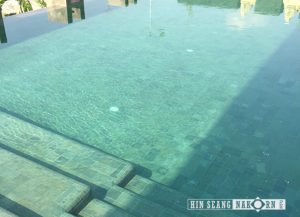 จากการที่หินมีส่วนประกอบของธาตุเหล็กและชั้นหินจำนวนมาก ทำให้เกิดการผลิตและการเปลี่ยนแปลงรูปแบบของสีจากสีเขียวอ่อนไปจนถึงสีน้ำตาลเข้ม มีเพียงไม่กี่เหมืองที่สามารถผลิตสีที่มีเสถียรภาพโดยไม่เปลี่ยนสีเป็นสีน้ำตาล นอกจากนี้ยังมีโซนภายในหินที่ก่อให้เกิดซีโอไลต์จำนวนมากเป็นเหตุให้หินมีความเปราะบางมากซึ่งไม่เหมาะสำหรับการใช้งาน
เนื่องจากลักษณะของวัสดุ ทำให้เป็นเรื่องยากที่จะตัดหินได้ตรงสมบูรณ์แบบ แต่ด้วยลักษณะมาตรฐานทั่วไปในการปูสระว่ายน้ำที่มีการเว้นร่องยาแนว จึงไม่สร้างปัญหาในการติดตั้งสำหรับผู้ที่ชื่นชอบและต้องการใช้หินชนิดนี้สำหรับปูสระว่ายน้ำ และเพื่อเป็นการควบคุมต้นทุนสินค้าสำหรับผู้บริโภค
ผู้ขายควรมีความเข้าใจในธรรมชาติของหินและปัญหาต่างๆ และควรตระหนักดีว่าข้อมูลเหล่านี้ควรจะถูกส่งผ่านไปยังผู้ซื้อเพื่อเป็นข้อมูลในการพิจารณาการตัดสินใจในอนาคต